UL and Relux Establish Agreement Enabling Lighting Manufacturers to Share Verified Photometric Product Data
New UL Verified Mark provides peace of mind to industry professionals and end users
BASEL, April 10, 2017 — UL, a global safety science organization, and Relux Informatik AG, a company focused on the development, production and marketing of lighting planning and product presentation software, today announced the signing of their agreement, based on the launch of the new UL marketing claim Verification program– which verifies photometric data against ISO/EN 13032 orLM 79– that for the first time enables lighting manufacturers to have third-party verification of their declared photometric data of their lighting products and share this information using Relux's transparent, easy-to-use database. The database offers lighting professionals and end users the ability to conveniently search for the products they really need.
Roberto Inclinati and Markus Hegi, signed the agreement on March 20th in Basel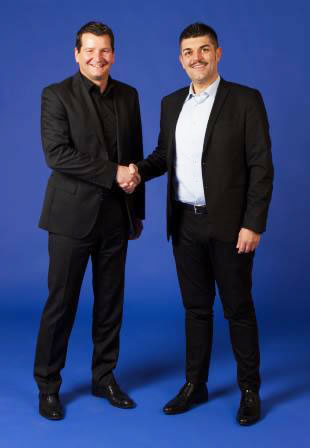 With this agreement and the launch of the UL marketing claim Verification program for photometric data, verified photometric data will be uploaded into the Relux database, satisfying both the needs of lighting professionals to have a transparent and clear picture of what they buy, and also the aim of lighting manufacturers to offer reliable products.
"Performance in the lighting industry is and will be an increasingly important factor in market product differentiation," said Roberto Inclinati, global commercial leader in UL's lighting division. "This marketing claim Verification program with the UL Verified Mark and the agreement with Relux support our effort to offer additional guidance to lighting designers, architects and all those professionals who demand quality lighting, UL believes that this new Verified Mark will enable manufacturers to stand out from the competition."
"The strategic cooperation of Relux and UL will provide the highest level of transparency and correctly measured and verified data for lighting fixtures. For that purpose, Relux and UL will establish a system where users can check if declared photometric data are UL Verified, to help ensure the expected results. This new cooperation and the new Verified mark will improve the reliability and accuracy of the lighting simulations with Relux tools" says Markus Hegi, CEO at Relux Informatik AG.
About UL
UL fosters safe living and working conditions for people everywhere through the application of science to solve safety, security and sustainability challenges. The UL Mark engenders trust enabling the safe adoption of innovative new products and technologies. Everyone at UL shares a passion to make the world a safer place. We test, inspect, audit, certify, validate, verify, advise and train and we support these efforts with software solutions for safety and sustainability. To learn more about us, visit UL.com.
About Relux
Relux Informatik AG, Switzerland, is an established company for the development, production and marketing of lighting planning and product presentation software. The company is active worldwide and works together closely with its representations. Relux is now a standard in contemporary lighting planning. The company was founded as a joint stock company in February 1998 by three luminaire manufacturers. Since 2010, Relux Informatik AG is an independent privately held company by his management team. Relux will be celebrating its 20th anniversary in 2018. Relux Informatik AG, Switzerland, offers users innovative and high-performance lighting planning software with open interfaces and simultaneous access to current product data from luminaire, sensor and lamp manufacturers. Through the contributions paid by Relux members, these high-quality planning aids can generally be made available to users free of charge or for a small license fee in some cases.